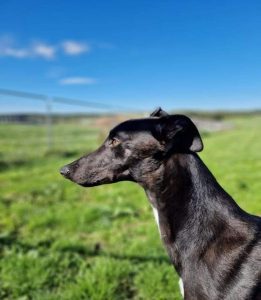 Murdok has just gone 2 years old.
He had 9 races at Monmore and was disqualified on his last outing in July this year.
He most likely came up here to the last flapping track in Scotland, either that or he miraculously found himself a home…
A month later he was brought to Tia, apparently his new owner had died, yet he still managed to ring a greyhound transporter….clever that.
Samsons Ace, still a baby really wanting a home of his own, preferably with another dog to show him the ropes. He is a little lost at the minute.