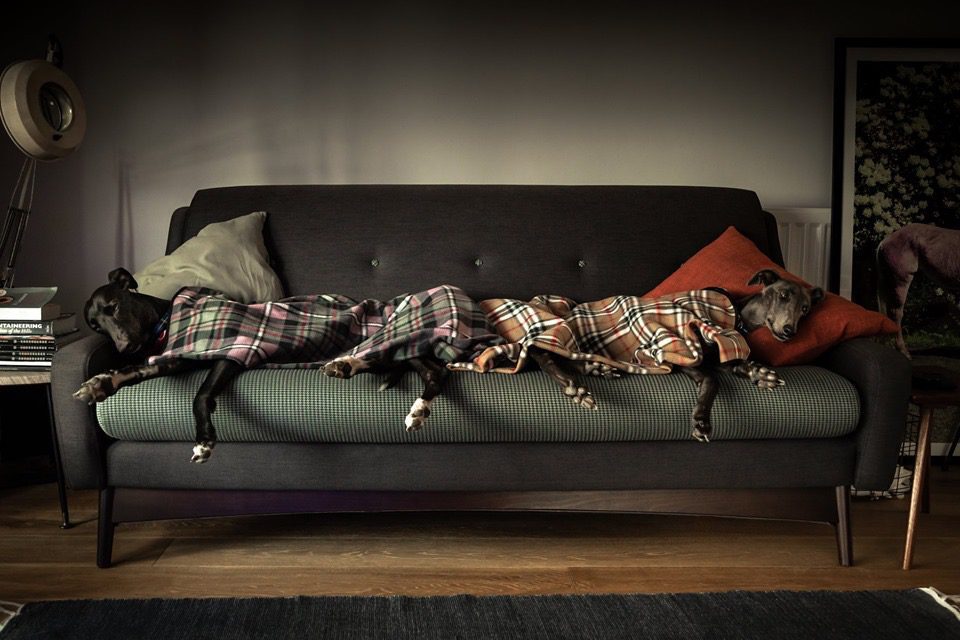 Adopting a greyhound or lurcher from Tia is the beginning of a long friendship with one of the kindest, gentlest, and quietest dog breeds you will ever find. They are smart too: which one of you has to go to work to feed the dog….?
Greyhounds and lurchers make wonderful companions, as anyone who has adopted one before will be only too keen to tell you… whether you want to know or not!
Adopting one of our dogs is a journey for both you and the dog, but you may not realise that your adoption donation will help all the other dogs here at Tia too.
Before you adopt your new companion, we will have cared for him or her, possibly for many months or even years. The dog will have had a check-up with a vet, they will have been neutered, 'micro-chipped', possibly had dental work and will definitely have had lots of feeds! This, of course, all costs money and your adoption donation goes some way to helping us meet these essential expenses which really are never-ending.
Sadly, for various reasons, not all our dogs can be rehomed: perhaps they have health or mobility issues or, occasionally, they are just too nervous to make adoption practical. This means that we will have to find the means to look after our 'for-ever' resident dogs for the rest of their lives. Of course, we just love to do that, and we try to make their lives interesting and varied as well as safe, but to do this means that we have to keep funds coming in.
So, when you make your adoption donation, you are not just giving a new home to your new family member, you are helping lots of other Tia dogs as well. Your donation will help pay for staff, vets, accommodation, food and even treats.
It is up to you to decide how much to donate, but we ask for a donation of at least £300 which will help to cover some of the costs of caring for your new dog before she or he decided to let you adopt them. As an animal rescue charity, Tia will be able to claim Gift Aid on your donation (if you are an eligible UK taxpayer) and this makes your donation go even further.
So, thank you from all the dogs and their staff here at Tia for making a home for one of our four-legged friends and for helping to look after all the other dogs both now and for the future. Every penny helps and we all deeply appreciate your kind donation.